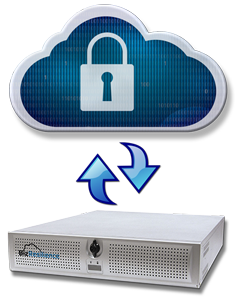 Simplify Deployment
Our plug-and-play appliance reduces the complexity of deploying a Disaster Recovery solution and gets you protected faster.
A Disaster Recovery Appliance usually includes the necessary infrastructure to process data quickly. The hardware and applications that process the data are available and ready to process. This architecture tries to eliminate the need to build an environment while in a recovery scenario, as this can be time-consuming and can result in errors.
Why a Physical Appliance
Eliminates the challenge, cost and time associated with building your own backup server and combining multiple data protection software. An All-in-One fully integrated appliance, includes all the hardware (CPU, Storage, and Networking) with preinstalled, tuned data protection software from a single vendor who, installs, maintains and provides a single point of support
All-in-One Backup Appliance
A scalable family of high-performance, cloud-empowered appliances that integrate purpose-built hardware, enterprise-class backup and recovery software with the cloud, providing end-to-end data protection and instant recovery from any disaster.
Backup Everything
Tackle the challenges of growing backup data and shrinking backup windows. Support for multiple backup types including file, application, operating system, and virtual machine infrastructures. Support customizable backup strategies, multi-server scheduling, and group management, application aware backup and bare metal recovery.
Simplify Recovery Operations
It is not necessary to invest in a separate rack of recovery servers to resume operations in case of a DR event. Our technology provides ample compute power from within the storage node to power recovery operations this saving server cost, space, and cooling costs.
Look No Further. Get Started Today!