<span height: 100px;> </span>
Disaster Recovery
We got you covered
The BizResilience Disaster Recovery Service enables you to recover your critical applications and telephony systems in our secure data center. This way, you can recover from disasters quickly and be back in operation in minutes or hours instead of days or weeks.
Backup →
Our appliance collects data from the protected servers, then compresses, encrypts and de-duplicate it before sending the data to our secure cloud facility.
Restore →
Our service allows for efficient recovery of all types of data, both locally at the client premise and on our premier cloud.
Disaster Recovery →
Recover all your systems instantly allowing your staff access to all critical applications and data within minutes.
Fallback →
Automate your fallback procedures and return to business-as-usual state, as quickly as possible.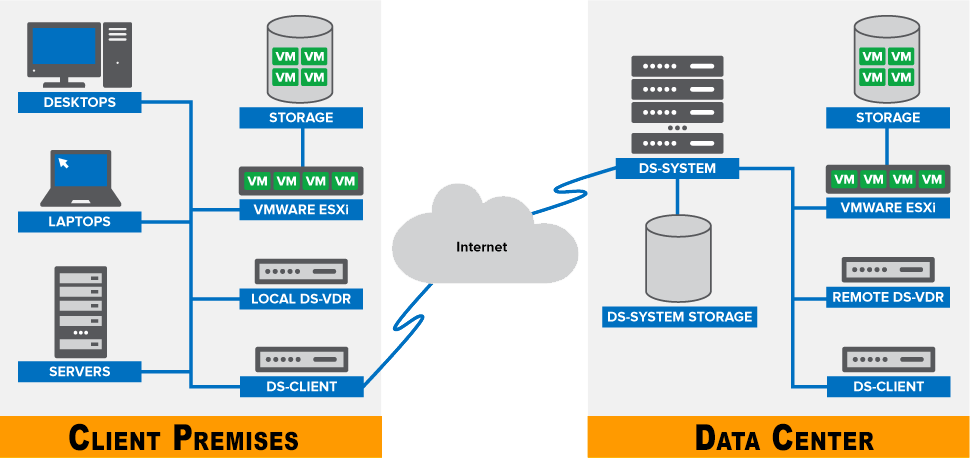 Drastically reduced recovery time
Spin up virtual machines on demand, and quickly recover your data to VMs that are located in the same data center as your backup data.
Hot, warm or cold
You have the option to fire up a pre-spun hot standby of your virtual instance immediately, or fallover to a warm or cold copy of the data in a remote data center in minutes or hours instead of days or weeks.
Recovery Appliance
Eliminates the challenge, cost and time associated with building your own backup server and combining multiple data protection software.
"Bare metal" disaster recovery onto different hardware
Recover entire servers from a disaster – even if the new hardware or operating system is completely different from the old one!
Advanced backup and recovery for virtual machines
Back up and recover VMs with any-to-any restore capability, and pay only for the amount of compressed data that you back up.
Keep earlier versions of your data longer
With our advanced retention policies, you can keep your data longer and have better access to older archived data.
Recover entire email servers... or just a single email
Quickly restore Exchange, GroupWise and other email data – whether it's an entire bank of servers or even a single email!
Restore data locally – and fast
In addition to sending your data off-site, you can also store a second copy of the data locally – enabling you to recover data at fast LAN speeds. Learn more
Proactive monitoring
We'll proactively monitor your backup jobs on an ongoing basis. If a job didn't complete properly, we will alert you instantly and be available to provide technical support if needed. Learn more
Install on one machine – and protect your entire network
With our agent-less architecture, deploying our solution on your network is fast and easy. Install it on machine and back up your entire LAN!
Secure, High Capacity Data Centers
With our services we uses some of the most secure, reliable and high-capacity internet backbones in the industry ‐ ensuring that your data is safe at all times. Learn more
Look No Further. Get Started Today!