<span height: 100px;> </span>
Product compatibility
Our remote backup software has passed rigorous product compatibility testing at Microsoft, Dell, VMware, NetApp and others. As a result, Our remote backup software has earned product compatibility certification for the backup and recovery of all major networking, VPN, storage and virtualization solutions.
We also supports industry-leading SaaS platforms, like Office 365, Salesforce.com and Google Apps.
Please see our product compatibility matrix for a complete list of the platforms and technologies that we support. Here is a quick summary:
All major Microsoft operating systems, from Windows 2003 to the latest Windows and Windows Server environments
Major versions of Linux, including Red Hat, SUSE and Ubuntu
IBM AIX, IBM iSeries OS-400, SUN Solaris, HP-UX, HP-Tru64 UNIX, and other Unix operating systems
VMware / Hyper-V / XenServer
Mac OS X 10.5+
Microsoft SQL Server, including clustered SQL
Oracle 8 and above
Google Apps
Volume Shadow Copy Service (VSS)
Microsoft Office 365
Microsoft SharePoint
MySQL and PostgreSQL
Microsoft Exchange 2003/2007/2010/2013 (clustered or non-clustered)
Lotus Notes and Domino (version 8 and up)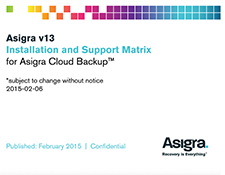 Our technology is powered by Asigra – a remote data protection system that is compatible with a large number of cloud, VPN and server-related products. View the complete matrix by clicking the button below.
Comprehensive Solution
Eliminate the need for multiple point solutions with a comprehensive cloud-based data protection solution that can back up all data sources and devices.
Support
Asigra Cloud Backup can adapt to the specific elements of any backup and recovery strategy, including public, private and hybrid cloud environments.
Security and Reliability
Asigra is the first cloud backup software solution to achieve the NIST FIPS 140-2 certification, uses state-of-the-art encryption to safeguard customer data at all times with superior encryption and security certifications.
Compatibility
Asigra Cloud Backup is vendor-and hardware-agnostic, so it works with any platform including Windows, Linux, MAC, iOS and Android environments, and can be deployed in grid configuration for failover protection and increased performance.
Look No Further. Get Started Today!